See Daimler V8 Restoration project pages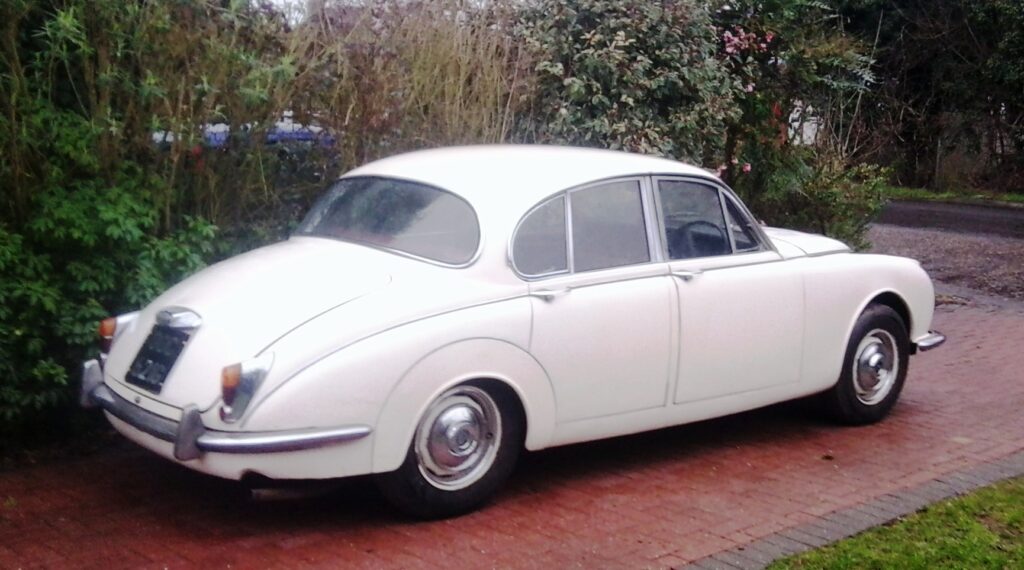 Daimler V-8 engines were designed for the Daimler Company by Edward Turner and produced from 1959 to 1969. Initially used in the SP250 sports car (Daimler Dart) and the Majestic Major saloon, the engine was mostly used in the Daimler 2.5 V8 (later named V8-250) saloon made with Jaguar Mark 2 unit bodies from 1962 to 1969.
2 .5 Litre & V8~250 SALOON 1962~1969
The first new car following the purchase of Daimler by Jaguar June 1960. The last Daimler to have a Daimler designed engine in what is basically a Jaguar Mk.2 body shell. Following it's demise Daimler became badge engineered Jaguars. Known initially as the Daimler 21/2 litre which had detailed refinements for the 1968 model year to become the V8~250.

SPECIFICATION.
Layout: Four door five seater saloon, front engined rear wheel drive of unitary
construction.
Engine: V8 ohv in a hemispherical head of 2,548 cc capacity; bore & stroke, 76.2 x
68.9 mm; compression ratio 8.2 to 1; twin SU carburettors; 140 bhp at 5,800 rpm, maximum torque 155 lb. ft. at 3,600 rpm.
Transmission: Borg-Warner type 35 automatic gearbox with torque converter and 3-speed planetary gears. The final drive is Hypoid bevel; ratio 4.27 to 1 with optional power lok limited slip differential. A 4 speed manual with optional overdrive was introduced as an option on the 1968 upgrade.
Suspension, Steering, & Brakes: Front independent coil springs, wishbones, &
telescopic dampers with anti-roll bar. Rear live axle located radius arms and Panard rod with cantilever leaf springs and telescopic dampers. The steering is a Burman recirculating ball type with optional power assistance. Dunlop disc brakes with Lockheed vacuum servo.

PERFORMANCE:
Top Speed; 112.5 M.P.H.
Acceleration; 0-60 M.P.H. 13.5 secs
Fuel Consumption 15 to 19 M.P.G.
DIMENSIONS:
Wheelbase
8ft 11 ins. Length 15ft 3/4 ins
Width 5ft 6ins
Dry Weight
3,046 lbs. (1 ton 7.2cwt, or 1,380kg.)
PRICE:
On launch £1,568 19s 7d. 1968 (upgrade) £1,615 12s 4d.

PRODUCTION: R.H.D. 17,157 L.H.D. 727 Total 17,884